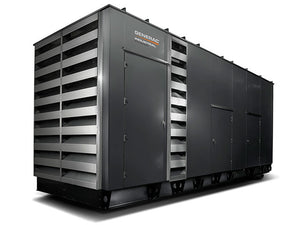 Diesel generators for sale by Generac. With a trusted name like Generac you don't have to worry. Their excellence in customer service and quality is why they are an industry leader. The 1000kW is no exception this powerhouse of a generator can handle just about anything you throw at it. This unit is perfect for just about any application and industry from hospitals to data centers. 
SD = single unit, diesel fuel   MD = modular/paralleling unit, diesel fuel
FEATURES OF THE 1000KW DIESEL FROM GENERAC
INDUSTRIAL 

ALTERNATOR

POWERMANAGER®

 

CONTROLLER

GENERATOR

 

PARALLELING

GENERATOR

 

ENCLOSURE
We sell all models of Generac generators, from small inverter portable generators to their entire line of diesel industrial commercial grade large output generators, and help assist in the installation and consultation.