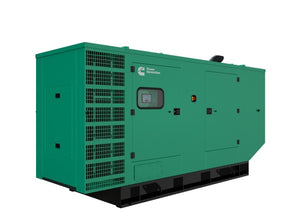 The QSL9 I-Range from Cummins is 4 cycle, 6-cylinder cast iron in-line, turbocharged, charge air-cooled unit, "This Cummins commercial generator set is a fully integrated power generation system, providing optimum performance, reliability, and versatility for stationary Standby and Prime Power. Cummins heavy-duty engine - Rugged 4-cycle industrial diesel delivers reliable power, low emissions, and fast response to load changes". 
There are 6 different sized models of the I-Range family of diesel generators from Cummins. 
Each one with increased power and output as you get higher with the C300D61 putting out 300KW of standby power and 270 of prime (full-time). 
C300D5I
C330D5I

C350D5I

C250D6I

C275D6I

C300D6I
OTHER FEATURES:
Full authority electronic engine with superior power-to-weight ratio
Alternator - Superior Efficiency with H-class insulation
Cooling system with a higher ambient capability
Integrated fuel tank for uninterrupted operations
4 point lifting
Advanced microprocessor-based  sync compatible Controller
Unique enclosure design with enhanced system performance