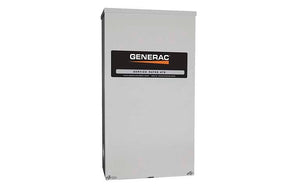 Generac now offers added flexibility by combining the load center and transfer switch in a single panel. This provides our customers with more efficient installation and cost-effective solution for new home construction or service upgrades. 
When your power goes out the smart transfer switch will automatically turn on upon electrical utility power loss without you having to manually do it. Your generator will recognize the utility ground has been lost and the switch will realize it, and crank up the generator. To learn more click here. 
* THIS IS TRADITIONALLY NOT AN OPTIONAL ITEM. THE AUTOMATIC TRANSFER SWITCH IS A REQUIRED ACCESSORY THAT MOST HOMEOWNERS WANT.